Bottom's Up!

Story and Photos by: Martin Wilson

---

"Bia Hoi is as much a social experience as a beer, so don't be surprised if you're invited to join your fellow patrons in celebration."

---

ram Phan Tram! Glasses of Bia Hoi are raised and emptied as the words, literally "100%" or "bottoms up", echo around the table. I've lost count of the number of glasses I've downed in the past hour. The dozen or so empty plastic bottles piling up on the next table and spilling onto the concrete floor provide a clue. Five more liter bottles are delivered to our table and glasses are refilled with ice.

Bia Hoi, or "fresh beer", is Vietnam's version of a micro brew. This refreshing, light-bodied Pilsner was first introduced in Vietnam by the Czechs. Decades later Bia Hoi is still brewed and delivered daily to drinking establishments throughout Saigon and Hanoi. Brewed without preservatives, it is meant to be enjoyed immediately - and enjoyed it is! But don't expect to find Bia Hoi in the more fashionable haunts, such as Apocalypse Now or Saigon Saigon. Most tourists and expats have never heard of it. (too bad!) Saigon yuppies are loathe to admit imbibing. (although many do!) Bia Hoi then is the drink of the masses - the working man's refreshment. (A woman drinking Bia Hoi, especially unaccompanied, verges on scandalous!)

Bia Hoi is as much a social experience as a beer, so don't be surprised if you're invited to join your fellow patrons in celebration. Today I raise my glass with four taxi drivers. My Vietnamese is limited, and only one driver, Nhan, speaks a few words of English, but we share the common language of bar patrons the world over - BEER. Of course, these gentlemen seem particularly fluent in the local dialect! The volume of their voices rises as the level in the plastic jugs draws down.

Having dedicated countless hours to in-depth research, I consider myself a connoisseur of Bia Hoi and the decidedly down-scale establishments where it is served. Bia Hoi varies widely in price, ranging from cheap to dirt cheap. In Hanoi, prices are frequently advertised by the glass, with 2,000 dong (about 15 cents) common. In Saigon, Bia Hoi is most often served by the liter for around 5,000 dong (about 35 cents). Here proper etiquette stipulates Bia Hoi be poured into a mug over ice. In Hanoi it is frequently served by the glass without ice. (Of course it's not nearly so hot in Hanoi!)

Many neighborhood establishments consist of little more than a couple of stools and a folding table in the proprietor's living room. Others are sprawling, outdoor beer gardens, reminiscent of those found in Bavaria. Many establishments offer cheap eats to whet your appetite, such as dau phong ( peanuts), cha gio (fried spring rolls) and canh ga chien (fried chicken wings). The more adventurous may wish to sample local favorites muc kho (dried squid) or thit cho (dog meat). Whatever your taste, enjoy the laid back atmosphere and friendly camaraderie.

To locate these purveyors of liquid refreshment look for the ubiquitous hand-painted words "Bia Hoi" scrawled across a wooden sign. (The temporary nature of the signs allows them to easily be posted or removed depending on availability!) My favorite is a raucous, open-air garage at 6 Hai Ba Trung in Saigon. The Ha Xuyen is the staging ground for a lively afternoon crowd. Myriad street vendors hawk their wares - cigarettes, gum, nuts, dried fish, trinkets and trash, while a cacophony of street sounds serves as background music.

Enthusiasm for quaffing endless rounds of beer seems to be waning at my table; glasses are half-full, the bottles nearly empty - perhaps we've killed the keg!? The proprietor wanders over to our table, leans on the back of my chair with one hand and counts the empty bottles with the other. He mentally makes an adjustment for the food we have consumed and apprises us of the damages - 110,000 dong (about $7.50). I reach for my wallet, but my new-found friends will have none of it; insisting it's their treat. I thank them and stumble out into the night.

If you think you're ready to try Bia Hoi, be prepared - drinking with the pros is not for the meek! A Western face is a bit unusual at any Bia Hoi establishment and inevitablly attracts curious attention from fellow patrons. Raising your glass in toast more often than not results in an invitation to join a group. Following are my top ten tips for enjoying Bia Hoi...and living to stumble home afterward.
Insist on Bia Hoi - don't allow the attractive girl in the San Miguel T-shirt to sway you to her brand. (Don't worry, she'll still fill your glass with ice!)
Do purchase cigarettes from the girls in the Craven or Marlboro T-shirts. If you smoke, consider purchasing a carton. If you don't smoke, a pack or two should suffice
Never drink Bia Hoi on an empty stomach
Beware the dog meat
Learn to say, "khong," the Vietnamese word for "no". You'll need it for the dozens of vendors who will accost you
Bring plenty of small denomination notes for all the stuff you'll buy from the vendors to whom you told khong
Never fill your own glass with Bia Hoi
Always fill your companions' glasses with Bia Hoi
It is considered poor form to lay your head on the table; ditto for lying face-down on the floor
Tram Phan Tram!
---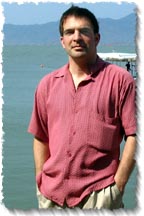 About the Author
Martin Wilson is the founder, editor and publisher of World Adventures. He always follows his own advice when raising a glass of Bia Hoi.