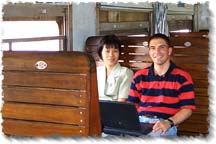 Who are the crazy folks responsible for this site, and why do we do it? Vietnam Adventures is the work of two guys, Marty Wilson and Rob Martin. (That's Marty in the photo!) Traveling to Vietnam in 1995, we were frustrated by dated and inaccurate information. Web developers by trade, we set out to create a Web site to provide travelers and prospective travelers with the most up-to-date, practical travel information. Soon after launching Vietnam Adventures in 1997, we began welcoming thousands of readers from around the world every week!
Reading Vietnam Adventures is like talking with a good friend that just returned from a trip, except we take better notes! If you want to know what to pack, or which museums to visit, get a guidebook. If you want a comprehensive list of hotels, try the Yellow Pages. (Sorry, we don't review the Yellow Pages - it's in Vietnamese anyway!) But if you're looking for a great place to stay, tips on the hottest destinations or a discounted air fare, you've come to the right place.
We intend to continue offering all the information you've come to expect from Vietnam Adventures for free. How can we do it? And how can you help? We rely on the the financial support of our sponsoring partners. These reputable companies believe in what we're doing and support our efforts to provide honest, reliable information about the destinations they serve. So if you're going to buy an air fare to Bangkok, book a tour to Vietnam, or stay in a hotel in Saigon, why not make it a World Adventures Partner? You'll save money, have the assurance of dealing with a reputable travel supplier and support World Adventures at the same time!
Finally, if you enjoy your visit to World Adventures, tell a friend. We can't afford multi-million dollar advertising campaigns, like Yahoo or AOL. But we have something even better - word-of-mouth from our readers! So next time you're talking with a friend about travel, mention World Adventures.
Enjoy your visit to Vietnam Adventures. See you in Saigon!