Sofitel Metropole Hanoi

Address: 15 Ngo Quyen
Hanoi
228 Rooms
Room Type
VietnamAdventures.com Rate
(Valid through 9/06)
Premium
$200
Classic
CALL
Discounted rate must be pre-paid and includes breakfast, 5% service charge and 10% VAT. Valid for single or double occupancy.

For More Information or Reservations Call 1-866-488-1480 (Toll Free in USA)

Despite the recent building boom in upscale hotels, the Metropole is still "The Place" to stay in Hanoi. It's also the most expensive, but well worth the extra bucks. No other hotel in the city - perhaps the country - comes close to matching the unique combination of location, luxury, history and amenities. If you're going to splurge on one hotel during your trip, the Metropole is it.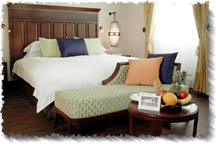 After opening its doors in 1901, this classic French colonial hotel in the center of Hoan Kiem District quickly became the center of colonial society. Everyone who's anyone called the Metropole home while in Hanoi, including celebrities, politicians and royalty. Renamed the Thong Nhat following the war, it soon fell on hard times. In 1994 the Sofitel chain embarked on a major restoration while adding a new 135-room wing. Today once again the Metropole is as much a hub for business and society as it is a hotel.
Rooms are tastefully decorated and furnished with two twins or one queen bed. The original "Classic" rooms in the opulent Historic Wing ooze character and charm, which is frankly why one would choose to stay here. We like the teak floors, shuttered windows, ceiling fans and analog alarm clocks. Modern touches like high thread-count sheets, flat-panel TVs, bedside reading lamps and modern bath fixtures add a layer of comfort previously absent. Newer "Premium" rooms in the Opera Wing are a few bucks cheaper, but don't have quite the same charm. All rooms and public spaces were updated in 2005.