La Veranda Resort

Address: Duong Dong Beach, Tran Hung Dao Street
Phu Quoc Island, Vietnam

All the talk of jet-setters sharing the sand with backpackers on Phu Quoc was just that - talk. After all there was no place for the luxe crowd to stay! That changed with the opening of La Veranda Resort in Fall 2006. This 43-room luxury beach resort is set back about 200 meters from the road, ensuring quiet and privacy. A two-story main building features a wide wraparound veranda, lending the resort its name. Restaurant, bar and large terrace occupy the building.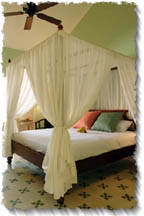 A stroll through manicured grounds leads to 7 stand alone buildings, each housing 3 "Deluxe Villas" or "Suite Villas". The remaining 22 "Superior Villas" are actually conventional rooms enclosed in a two-story building. Superior rooms are a relativelty spacious 36 square meters (360 square feet) and have a typical hotel room layout. Deluxe Villas are nearly 50% larger and feel more spacious and luxurious. Both feature four-poster king bed, small writing table and armoire containing TV and DVD player. The colonial motif makes extensive use of pastel hues, tile and white shutters. Every room boasts French doors that open onto either a ground floor patio or second floor balcony facing the sea (though you'll be hard pressed to actually see the beach from many of the superior rooms!)
The resort's amenities include swimming pool, massage and day-spa, not to mention a 2:1 staff-to-guest ratio. Of course our favorite feature is the 80 meters (250 feet) of pristine beach front, which is why folks come to the island anyway.
For those seeking a few days of peaceful R&R, Phu Quoc Island is tough to beat and La Veranda Resort the best place to stay.