Troi Oi! is Vietnamese for "Oh My God!" It was our first reaction when we heard the room rate at the Evason Hideaway Resort slightly exceeds Vietnam's annual per capita income. It was also our reaction when we arrived on the island and were shown to our private, 1,700 square foot villa. Despite the price we think the Hideaway represents one of the most compelling values in Vietnam. To appreciate why, consider two facts: first, the Hideaway is not really a hotel or resort, but more like a small island village with a few dozen private villas. Second, it's not in Nha Trang - or Vietnam for that matter. Set on a private island, 30 minutes by boat off the coast of Nha Trang, the Hideaway is literally in a different time zone than the rest of Vietnam. It has a Caribbean feel with an Asian flair and an international clientele.
If you were to design your dream vacation home on a tropical island the result would probably be close to the Evason Hideaway's hand-crafted teak villas. Of course you'd also want a housekeeper, gardener, butler and chef, all of which you'll find here!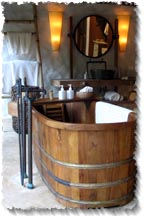 My butler, Ms. Trang, is on hand to pour me glass of champagne and give me a quick tour of my new, albeit temporary, home. We begin upstairs in the open-air living/dining room overlooking the sea. The small kitchenette is furnished with an espresso machine (don't worry, you're butler can operate it!) and a wine cooler stocked with a decent selection from the Hideaway's 200-bottle list. The writing desk is unremarkable except I can open my laptop and check my e-mail using the free high-speed wireless network while enjoying the sea breeze.
Downstairs the spacious bedroom with four poster king bed opens to a private patio and pool surrounded by palm trees and bougainvillea. The jazz playing throughout the villa is courtesy of the stereo tucked into the armoir along with a televison and DVD player. The music follows us into the luxurious indoor/outdoor bath featuring his and her vanities with custom fixtures, two showers and a freestanding teak soaking tub.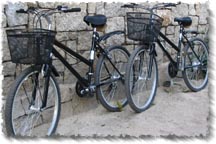 Ms. Trang explains the resort will have about 30 similar villas on the beach hugging the 2 kilometer (1.6 mile) horeshoe-shaped bay. A handful of larger, more private villas will be built on the hillside, over the water, or on the huge boulders adjacent to the water. A sandy path connects the villas and the open-air library/bar/restaurant. There are no cars, but two 18-speed bicycles are parked outside in case one doesn't wish to walk. (A flashlight is thoughtfully provided for returning after dark!) For the weary, there's a luxurious spa; for the restless, there's a gym, tennis, diving, water sports and nature trails.
The Hideaway won't appeal to everyone. Those who don't believe "open-air" and "five star" belong in the same sentence may want to pass. Those who appreciate privacy, natural surroundings, attentive service and exceptional food & wine will find the Hideaway about as close to heaven as you're likely to get in this lifetime.