Emeraude

180 Feet
3 Decks
39 cabins
| | | |
| --- | --- | --- |
| Luxury Cabin (38) | $195 per person | $325 per person |
| Luxury Suite (1) | $295 per person | NA |
Discounted rate includes private roundtrip transfer to/from Hanoi, lunch, dinner and breakfast onboard, 5% service charge and 10% VAT.

For More Information or Reservations Call 1-866-488-1480 (Toll Free in US)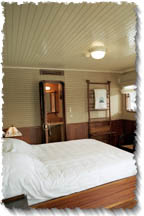 The largest and most luxurious ship plying the bay, the Emeraude is geared toward those who want to kick back and relax in style. This 180 foot (55 meter) ship is a replica of a French colonial paddle steamer (the paddle is just for show, it doesn't actually turn!). We love the covered open-air bar, wicker chairs, polished teak decks and starched white crew uniforms which give the Emeraude an air of class and nostalgia. But it's the crew that really makes the Emeraude tick.
Porters meet your vehicle curbside and carry your luggage the length of the 200 meter pier to the waiting ship, where you are welcomed aboard by the captain. Wherever you wander on-board you are always greeted with a warm smile and friendly hello.
Eight of the 39 cozy cabins have double beds. The rest have two twins, though in most rooms (but not all!) they can be pushed together. Children under 6 can share their parents' bed free of charge. Families with older children will want to request connecting rooms (there are only 4!) The sink is separated from the toilet and European hand shower in the tiny ensuite bathrooms. The 80-seat dining room makes extensive use of teak and brass. Other amenities (not included in the price!) include massage, two bars and sea kayaking.