Cassia Cottage

Address: Khu Pho 1, Duong Dong
Box 43, Phu Quoc Island Post
Phu Quoc, Vietnam
Tel: 84-77-848-395
Fax: 84-77-848-396

Just beyond the entrance to the Tropican Resort is a tiny gem known to few travelers. Built by an American spice trader as a private home, Cassia ("Cinnamon") Cottage offers three private villas for rent by the day, week or month. The two bedroom villas are perfect for two couples or a small family. Two bedrooms with private baths are connected by a small living room and kitchenette. Wraparound porches boast views of the Gulf of Thailand and make an ideal place for a lazy afternoon with a good book.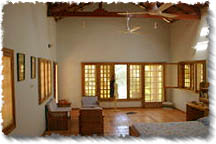 While not luxurious, the villas feature tile floors, screened windows, ceiling fans and AC for times when the sea breezes simply don't cut it. Spartan appointments include teak and rattan furnishings and a well-stocked fridge. Thankfully you won't find TVs, telephones or DVD players.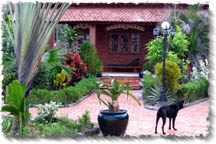 The three villas share an inviting pool and pleasant garden patio. Steps lead down to a white sand beach that's also great for swimming. Poolside drinks at sunset will spoil you as will Cassia Cottage's staff of five who are always on hand to whip up a refreshing fruit smoothie or cocktail. For a few bucks they will gladly prepare and serve a feast of Vietnamese and seafood specialties on the patio overlooking the sea or in the newly built "restaurant". A few bucks more and you can enjoy a bottle from the owner's wine cellar or a fine cuban cigar from his personal stash!
Cassia Cottage is an ideal home away from home for families looking to escape for a few days...or weeks. Just don't tell anyone else - remember there are only three villas and we want one for ourselves!

UPDATE:
Cassia Cottage recently expanded with the addition of 18 stand alone bungalows. (We have not yet reviewed the bungalows!) On the positive side, you're more likely to find availability; however, expect to share the pool, beach and staff with a bunch more folks! -- August 2008