Nestled high in the Tonkinese Alps near the Chinese border, Sapa was built as a hill station during French colonial days to serve as a respite from stifling Hanoi summers. Weekends are still the biggest draw, as folks from the capital flock to Sapa for a glimpse of the famed "Love Market," a trek to local hill tribe villages, or an ascent of Vietnam's highest peak, Fan Si Pan.
The pace of change in this tiny mountain hamlet is roughly equivalent to free crack for a budding sociologist researching her doctoral thesis! Visitors have increased 10-fold since the turn of the century, inevitably leaving their imprint on the fabric of the place. You'll still see minorities decked out in traditional garb in town, just not in the setting you expect: Red Dao girls play hacky sack in the park, Hmong women attired in traditional indigo tunics and leggings shoot billiards in a bar, and teens crowd the Internet cafes like Saturday afternoon at the mall.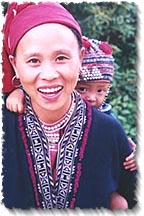 Despite its commercialization over the last decade, Sapa is still a must-see on any northern Vietnam itinerary. On a clear day you will be treated to views of steeply terraced rice fields, towering verdant ridgelines, primitive mud-thatched villages, raging rivers and astounding waterfalls. Of course the real draw is the minority hill tribes who call the surrounding valley home. Some eight ethnic groups inhabit Lao Cai province: Hmong, Dao, White Thai, Giay, Tay, Muong, Hao and Xa Pho. You don't have to travel far to meet them. Most prominent in town are the Hmong, easily identified by their embroidered, indigo attire and the Red Dao, distinguished by the coin-dangling red headdresses and intricately embroidered waistcoats worn by the women.
Deep in the valleys surrounding Sapa, the Muong Hoa River sluices a wild, jagged course among Hmong, Giay, Red Dao and White Thai settlements, their tiny dwellings poking out of the neon rice fields like diamonds on a putting green. Hire a local to accompany you on a hike down into the valley or sign up for one- to four-day treks offered by an ever increasing number of outfitters. Guests sleep in tents or in the homes of villagers, their gear hauled by Hmong porters. Of course if you want to catch a glimpse of authentic village life unadulterated by Nikon-toting tourists, you'll have to venture further afield. Adventurous travelers with time on their hands use Sapa as a jumping off point, hiring a guide and a driver for multi-day journeys, taking in any number of villages and local markets held throughout the week, such as Can Cau (Saturday), Bac Ha (Sunday), Coc Ly (Tuesday).
Sapa is famed for its "Love Market" – sort of a cross between a peacock mating ritual, a Middle Eastern arms bazaar, an Amish square dance, a bad Pavarotti concert and Bangkok's Patpong (except here the people wear clothes). On Saturday nights, hill tribe youths of both sexes congregate in a weekly courting rite, singing tribal versions of Loretta Lynn love songs to woo the opposite sex. Sadly this ritual is dying out. While foreign tourists search in vain for a snapshot and hawkers sell them trinkets and trash, the teenagers slip out to neck on a bench around the lake.
Topping out at 3,143 meters, Fan Si Pan has become the Mount Everest of Vietnam. Queues of yuppie trekkers in their latest TravelSmith "totally-packable" rainwear form mountaineering traffic jams at base camps.
The best times of the year to visit Sapa are in the spring and fall. Summers tend to be rainy and muddy, while winter temperatures can drop to below freezing. (Weather really makes a difference here, because the spectacular scenery is all but blotted out when there is cloud cover and rain!) Practically speaking nearly everyone arrives by rail from Hanoi via Lao Cai. In addition to the pioneering (and highly recommended!) Victoria Express, several other companies offer cheaper Pullman sleepers between Hanoi and Lao Cai. Ignore the other gawking tourists in the villages and get out into the countryside, where you just may still catch a glimpse into hill-tribe life of a couple of centuries ago.