More and more visitors are discovering Phu Quoc's pristine beaches and laid-back lifestyle. Until the turn of the century, Phu Quoc (population about 60,000) was only for the adventurous. Battered ferries traversed treacherous seas from Rach Gia and Ha Tien and Vietnam Airlines flew in passengers and perishables four times a week. Today Phu Quoc is served by four flights a day and backpackers share the sandy white beaches with jet-setters.
Though technically part of the Mekong Delta, Phu Quoc resembles the mainland - both topographically and culturally - about as much as Hawaii resembles Iowa. Only 15 km (9 miles) from Cambodia, the Cambodians have also claimed sovereignty over the island. But there's little pack in the Khmer punch these days, and a large Vietnamese military base on the island helps keep the neighbors at bay. In fact, presently, the entire northern half of Phu Quoc is sealed off to foreigners, as it comprises a large military installation. Meanwhile, the southwest coast of this 48-km-long island features some of the finest coconut palm-lined beaches in Vietnam.
The two main "towns" on the island are Duong Dong, where the airport is located, and An Thoi, a smaller settlement where the ferries from Rach Gia land. About 20 km separate the two towns.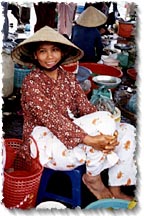 Make sure to pay a visit to the colorful local market at Duong Dong, a colorful, laid-back little seaport boasting delicious fresh seafood. Nearby Dinh Cau Rock sits at the mouth of the Duong Dong River and features a small Buddhist shrine which dates back to the 1930s. It offers good photo ops of the harbor.
Leisure activities are somewhat limited on Phu Quoc. Windsurfing, snorkeling and diving are available at some of the resorts. Deep sea fishing is a staple of the local economy and anglers can cast their rods on nighttime sojourns offered by the Saigon-Phu Quoc Resort. There's some talk of organizing treks on the island, and the Saigon-Phu Quoc resort offers some hiking along the southern beaches and coastal mountains. Unfortunately the most worthwhile interior areas of the island worth trekking are restricted, as they encompass the military base.
This seeming paradise may have been overlooked by the producers of "The Beach", but not by resort developers. Small bungalow resorts have sprouted up along the island's southwest coast in recent years. But the big players have been slow to arrive, perhaps because the Vietnamese government had pegged Phu Quoc as Southeast Asia's new "Singapore" with ambitious plans to turn the island into a deep-water port, complete with skyscrapers and freeways, factories and trendy shopping districts. That plan seems to have been lost at sea. For now newer and more upscale resorts continue to broaden Phu Quoc's appeal.