Phan Thiet is a small, pleasant town on the central Vietnam coast. Located midway between Saigon and Nha Trang on National Highway 1, it used to have a reputation as a convenient overnight stop for travelers. Ironically, what those same travelers didn't know was that Phan Thiet is also the gateway to the Mui Ne Cape, one of the most beautiful, unspoiled stretches of coastline in Vietnam, if not the world! Today Phan Thiet has become a destination in itself and Mui Ne has earned a reputation for world class kitesurfing. Sadly it won't be long before the fishermen hauling in their nets on the beach are replaced by children hawking chewing gum.
Phan Thiet is divided by the Ca Ty River, with the older part of town to the south. As you enter town, National Highway 1 becomes Tran Hung Dao Street. The Tran Hung Dao bridge offers an excellent view of the fishing boats in the small harbor. Walking is the best way to get around downtown Phan Thiet, although there's no shortage of cyclos.
While Phan Thiet is pleasant enough, the real attraction of the area is the Mui Ne Cape, stretching 25 kilometers into the South China Sea. Until the turn of the century, the cape attracted few visitors. In fact, the cape was reputed to be a hideout for bandits and thieves. (More than likely, someone's distant cousin was once robbed of a few coconuts at the point of a sharpened bamboo pole!) At any rate, the reputation stuck and the locals left this wild frontier to the fishermen and their families.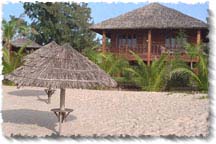 Then in 1995 a European couple opened a 17-room resort on a pristine stretch of beach midway between Phan Thiet and the fishing village of Mui Ne. To the astonishment of the locals, the Coco Beach Resort (Hai Duong Resort) was soon welcoming weekend Saigonites and tourists. The rest is history. Today a new guest house, hotel or resort opens its doors virtually every month and the pace shows no sign of letting up. If you want to see the Mui Ne Cape before it is just another strip of wall-to-wall hotels and restaurants, you'd better get here quick!
Despite the recent development, we can't think of a better place to spend a relaxing couple of days in Vietnam. It's a great place to take a break and unwind after the challenges of traveling. When you tire of the beach, kitesurfing or golfing, there are the sand dunes, numerous pagodas, the bustling Phan Thiet market and even a Cham temple to explore. Best of all, the freshly caught seafood is out of this world!
Hot and humid year-round, Phan Thiet's rainy season begins in May and runs through October, making the best time to visit from November to May.