Commonly referred to as Saigon, Ho Chi Minh City is a sprawling metropolis that is home to more than 6 million people. Vibrant and alluring, this city offers something for everyone. It is a study in contrasts: traditional and modern, young and old, rich and poor. If you ever wondered what Bangkok must have been like before the gridlock or Hong Kong before the high rises, this is your chance. But don't wait too long, this place is changing fast. Plan on spending a minimum of 2 or 3 days, longer if you can.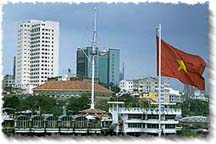 Most first-timers stay in District 1, as it's close to many museums, historical sites, hotels and restaurants. District 1 also encompasses the central business district which has seen a non-stop building boom since the turn of the century. You'll find the greatest variety of lodgings here, from the century-old, French colonial Majestic to the gleaming new Park Hyatt.

Numerous worthwhile sites within Ho Chi Minh City itself include the Historical Museum, Reunification Hall and the War Remnants Museum (formerly the War Crimes Museum). Within a day's drive there are also several attractions well-worth the trip, including the Cau Dai temple at Tay Ninh and the Cu Chi tunnels. Of course Ho Chi Minh City is also a great place to just sit and watch the action or take a leisurely tour in a cyclo.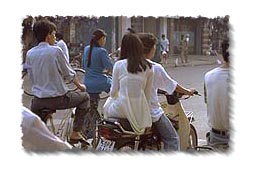 Downtown streets are dominated by two-wheeled traffic. Fashionably-dressed women with designer sunglasses, high heels and elbow-length gloves cruise past on their Hondas, followed by teenage girls wearing traditional Vietnamese ao dai, peddling bicycles and holding hands. Pedestrians cross the street by simply walking into the melee, hardly breaking stride as the traffic swirls around them. It all sounds crazy, but it works!

Most offices, stores and museums open early, usually around 7:30 a.m. Most close their doors for lunch for up to 2 hours. The city literally shuts down between noon and 1. Doors reopen by 1:30 and stay open until around 4:30 or 5. Most restaurants stop serving at 10 p.m.

Ho Chi Minh City has essentially two seasons: dry and wet. The dry season runs from November through April; the wet season from May through October. Dry or wet, it's always hot! If you arrive during the wet season, bring a raincoat and umbrella, you'll need it!