The most European city in Vietnam, Hanoi is home to nearly 2 million people. Less vibrant and more reserved than its cousin to the south, Hanoi is a great place to explore on foot. If Ho Chi Minh City is defined by hustle and bustle and people on the go, Hanoi's trademark is green parks and tranquil lakes. The city is divided into districts, many of which take their name from a lake within the district's boundaries. Each district has its own charms.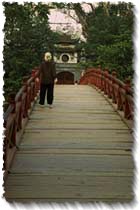 The geographic and spiritual center of Hanoi is Ho Hoan Kiem (Lake of the Restored Sword). A broad path encircles the lake, attracting residents to its shores throughout the day. At dawn you'll find young and old walking, jogging, practicing Tai Chi and playing badminton. After dark, young couples walk hand-in-hand or seek privacy under the trees and on the numerous park benches at the water's edge.

To the north and west of the lake is Hanoi's famed Old Quarter with its confusing maze of narrow cobblestoned streets. Home to numerous guest houses, mini-hotels, art galleries, restaurants and shops, the Old Quarter is worth a day of aimless wandering and discovery. Many visitors, particularly backpackers, choose this area as their base in Hanoi.

South and east of the lake, the wide tree-lined boulevards of the old French quarter offer a stark contrast to the confusion of the Old Quarter. The French colonial influence, obvious throughout the city, is particularly evident here. Many colonial villas are now home to embassies, upscale hotels and restaurants.

Those spending more than a couple of days in Hanoi will want to explore other areas of the city as well. Scenic Ho Tay (West Lake) has become the preferred address for expats in recent years. In addition to a sophisticated dining scene and several upscale hotels, including the Sheraton and Inter-Continental, it boasts numerous historic sites and temples.

Hanoi awakes early, with activity in the parks beginning before sunrise and winding down by 7 a.m. Most offices, stores and museums open around 7:30 am, closing for lunch between 11 and 1, and reopening again until 5 p.m. Most restaurants stop serving at10 p.m.

Hanoi has four distinct seasons. Winters can actually be quite chilly; although snow is foreign to Hanoi residents. Summers are hot and rainy. Probably the best time to visit is spring and fall.