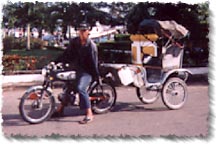 The best way of getting around town is by Xe Honda Loi, basically a motorcycle pulling a wagon. Most trips within town can be negotiated for 10,000 dong or less. For trips into the surrounding villages, Can Tho boasts a taxi company (Tay Do Taxi, tel: 824824). Sample fare, round trip to Phong Diem with an hour wait, is 200,000 VND ($14 USD).

Boats (motorized or paddle) can be hired on the waterfront for as little as 30,000 VND per hour ($2 USD). Folks will offer a trip to Phong Diem (4-5 hours) or Phung Hiep (6-7 hours) for around $25 USD. Be warned that it's a long time to spend on a boat in the hot Mekong Delta sun, and despite what they tell you, the markets are really not worth visiting much after 7 am. We recommend driving to Phong Diem or Phung Hiep and hiring a boat locally.
For guests staying at the Victoria, a complimentary shuttle boat service between town and hotel operates on demand. The trip takes about 5 minutes.