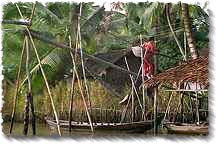 Can Tho, the heart of the Mekong Delta, is a bustling market community of 200,000. The central Mekong Delta is the richest, most prolific agricultural region of Vietnam. It covers some 67,000 square km and is one of the nation's most densely populated areas.
The Mekong Delta is comprised of small villages that dot dozens of ribbon-thin arroyos meandering under a thick canopy of papaya, mango and jackfruit trees. Some are reachable only by longtail boat, and then only at high tide. Tiny bicycle paths cut off innocuously from Highway 1 barely noticed by the tourists who whisk by in minibuses. Deep down these trails are wonders which will delight even the most "'Nam-ed out" tourist. The adventurer can simply choose one of these rutted paths and follow it, sometimes many kilometers, to the end. Be prepared to stumble upon Buddhist funerals, tiny cafes, pool halls and sows the size of water buffalo that might only be coaxed out of your path by a less-than-gentle kick to the rump. If you're lucky, you'll be invited into villagers' homes for freshly-slaughtered sow and chickens, and vats of that volatile concoction called Ruou Gao, or homemade rice whiskey, which is distilled from rats, snakes and apparently virtually everything but rice.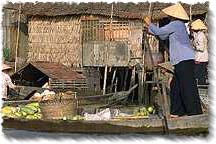 Floating markets are the Delta's prime attractions. Unlike those found in Bangkok, these markets aren't for the benefit of camcorder-toting tourists. Early each morning the Bassac River and its tributaries swell with vendors in sampans, houseboats and longtails jammed with fresh Delta produce: jackfruit, mangosteen, durian, papaya, mango, bananas, pineapple, guava, fresh vegetables and smuggled sundries from cigarettes to shampoo. The best market to visit is about 30 km south of Can Tho in Phung Hiep. There, hundreds of watercraft weave in and out of this congealing maze of boats, their owners shouting to advertise their wares. A little closer, but no less exotic, is the Phong Diem floating market. Closest is the smaller Cai Rang floating market, just across the Cai Rang bridge about 6.5 km south of Can Tho.
Another worthwhile trip, best made at dusk, is to the Bang Lang Stork Sanctuary just outside the village of Thot Not. A hour's drive from Can Tho, then another 15 minutes by longtail boat, the sanctuary is home to literally thousands of storks that return each evening to roost. Even those who aren't crazy about birds will appreciate the intimate glimpse of Delta life along the waterway to and from the sanctuary. Back in town, check out the 1852 Binh Thuy Temple and its 100-year-old stuffed tiger. Other attractions include the Ho Chi Minh Museum, the Central Market and the Cantonese Congregation Pagoda.
Can Tho is rapidly taking on the trappings of Saigon. Each month, the city seems to creep farther and farther into the neon-green landscape of the Delta. Its mishmash of cultures - Vietnamese, Khmer and Chinese - gives the city an almost cosmopolitan feel. A brand-new, 4-star resort property is testament to Can Tho's surge in popularity, both as a business and tourist center. The best time to visit is during the dry season from November through April, as the delta is virtually underwater the rest of the year.